Posts Tagged 'corporate welfare reform'
Every other year, the Beacon Center publishes "An Idea a Day" for each remaining legislative day of the current General Assembly. This year's publication offers a roadmap to freedom, providing 57 ideas for the second session of the 108th General Assembly. Click here to download the full roadmap, or scroll through the ideas below, broken down by category.

Taxes
Repeal the Hall Income Tax on stocks and bonds, alleviating the burden on low-income retirees and inviting wealthy individuals to move into Tennessee to invest in job growth.
Contact Justin Owen at justin@beacontn.org
Scale back corporate taxes on all businesses, which are per capita the highest of all bordering states.
Read "Corporate Welfare Infographic" at bit.ly/16EIq67
Place a limit on the growth of local property taxes unless approved by voters via referendum.
Contact Lindsay Boyd at lindsay@beacontn.org
Cut the Real Estate Transfer Tax by one-third, ending the unnecessary state purchasing of wetlands and forestland.
Read "2013 Tennessee Pork Report," p. 9 at bit.ly/17CQqty
Review and eliminate all taxes and fees that cost more to enforce than is collected in revenue therefrom.
Contact Lindsay Boyd at lindsay@beacontn.org
Eliminate the cattle tax that funds the Beef Promotion Board campaign, which uses tax dollars to urge Tennesseans to eat more beef.
Read "2013 Tennessee Pork Report," p. 6 at bit.ly/17CQqty
Spending

Base the state Copeland Cap on population plus inflation growth, limiting government spending and allowing Tennesseans to keep more money in their pockets.
Watch Justin Owen's Copeland Cap Testimony (46 minute mark) at bit.ly/17f6D8e
Make the Copeland Cap more stringent by requiring a supermajority vote of the legislature to "bust" the cap.
Watch Justin Owen's Copeland Cap Testimony (46 minute mark) at bit.ly/17f6D8e
Enact a provision that will automatically return surplus revenue to taxpayers after topping off the rainy day fund.
Read "2013 Tennessee Pork Report," p. 24 at bit.ly/17CQqty
Establish an independent spending commission to recommend spending cuts to the governor and legislature.
Read "2013 Tennessee Pork Report," p. 24 at bit.ly/17CQqty
Require a waiting period of 72 hours between the time in which an appropriations or revenue-related bill is introduced and a vote is taken.
Read "Legislators' Guide to the Issues," p. 12 at bit.ly/1ep6v8w
Get the government out of the golf course business by selling state-owned golf courses or leasing courses that operate at a loss.
Read "2013 Tennessee Pork Report," p. 7 at bit.ly/17CQqty
End the failed switchgrass-to-ethanol program that has cost taxpayers more than $60 million yet has failed to become commercially viable.
Read "2013 Tennessee Pork Report," p. 17 at bit.ly/17CQqty

Education
Allow parents across Tennessee to take a portion of the funding already spent on their child and send their child to the school of their choice.
Read "The Choice is Ours" at bit.ly/YtQcLw
Grade all public and charter schools based on academic performance and learning gains with easy-to-understand A, B, C, D, or F grades.
Read "Legislators' Guide to the Issues," p. 25 at bit.ly/1ep6v8w
Ensure that school districts meet the national standard for the percentage of spending that goes into the classroom, curbing out-of-control administrative costs.
Read "Following the Money" at bit.ly/16WFC4G
Create alternative teacher certification paths, encouraging successful business and community leaders to enter the teaching profession.
Read "Legislators' Guide to the Issues," p. 27 at bit.ly/1ep6v8w
Refuse efforts by President Obama to expand Pre-Kindergarten, a costly program that has failed to provide long-term benefits to Tennessee children.
Read "Legislators' Guide to the Issues," p. 26 at bit.ly/1ep6v8w
Remove roadblocks to online and blended learning opportunities that provide additional options for children of various backgrounds.
Read "Legislators' Guide to the Issues," p. 29 at bit.ly/1ep6v8w
Healthcare
Refuse the unaffordable and immoral push to expand Medicaid under Obamacare.
Read "Medicaid Expansion Infographic" at bit.ly/XEhyBH
Allow Tennesseans to purchase health insurance from any state in the country.
Read "A Cure for What Ails Us" at bit.ly/1b9QKiJ
Repeal laws that favor employer-based insurance over individually-purchased insurance that has more portability, and urge Congress to do the same.
Read "A Cure for What Ails Us" at bit.ly/1b9QKiJ
Permit young Tennesseans to purchase more affordable "mandate light" health insurance plans.
Read "A Cure for What Ails Us" at bit.ly/1b9QKiJ
Provide state employees with a consumer-driven health insurance plan option with a health savings account in lieu of their current plan.
Contact Justin Owen at justin@beacontn.org
Reform medical licensing and scope of practice laws to address doctor shortages and expand Tennesseans' choices when seeking healthcare services.
Read "A Cure for What Ails Us" at bit.ly/1b9QKiJ
Repeal protectionist Certificate of Need laws that limit access to healthcare services.
Read "A Cure for What Ails Us" at bit.ly/1b9QKiJ
Property Rights
Prohibit the forced sale of property via eminent domain.
Read "Eminent Domain No Excuse for Property Abuse" at bit.ly/1aa7rJE
Require approval of local legislative bodies before unelected and unaccountable agencies can take private property using eminent domain.
Read "Legislators' Guide to the Issues," p. 57 at bit.ly/1ep6v8w
Treat regulations on private property as "takings" and provide property owners with compensation when regulations diminish the value of their property.
Read "Legislators' Guide to the Issues," p. 58 at bit.ly/1ep6v8w
Give existing owners an option to receive equity stake in a redevelopment entity when their property is taken as part of a redevelopment plan.
Contact Lindsay Boyd at lindsay@beacontn.org
Require government entities to follow foreclosure proceedings rather than use property condemnation in order to better protect property owners.
Contact Lindsay Boyd at lindsay@beacontn.org
Permit a referendum of voters when their property is subject to annexation by a nearby city.
Contact Justin Owen at justin@beacontn.org
Regulation
Reduce the number of occupations requiring a license, currently at 111, which makes Tennessee one of the most heavily regulated states in the nation.
Read Justin Owen's Economic Liberty Act testimony at bit.ly/vJr82i
Enact an economic liberty act requiring the government to prove that all new occupational regulations directly impact the health, safety, and welfare of Tennesseans.
Read Justin Owen's Economic Liberty Act testimony at bit.ly/vJr82i
Eliminate titling acts that require Tennesseans to obtain government permission to use certain occupational titles.
Read Justin Owen's Economic Liberty Act testimony at bit.ly/vJr82i
Allow Tennesseans to purchase wine in grocery stores, eliminating the liquor industry's monopoly over the product.
Read "Drunk with Power" at bit.ly/18aijnL
Target methamphetamine production rather than impeding the purchase of cold medications by law-abiding citizens, and prohibit local governments from restricting such sales.
Contact Lindsay Boyd at lindsay@beacontn.org
Prohibit unelected government regulatory boards from increasing occupational fees without approval by the legislature.
Contact Lindsay Boyd at lindsay@beacontn.org
Eliminate the minimum wage and prohibit local "living wages" that make it more difficult for many Tennesseans to find gainful employment.
Contact Lindsay Boyd at lindsay@beacontn.org
Prohibit local governments from imposing new mandates on businesses that are inconsistent with and more stringent than state law.
Contact Lindsay Boyd at lindsay@beacontn.org

Government Reform
Reform asset forfeiture laws to eliminate any financial incentives for law enforcement to seize private property.
Watch "NC5 Investigates: Policing for Profit" at bit.ly/lRyTY6
Allow the private sector to assume responsibility for non-essential government services that could easily be handled outside of state government.
Contact Justin Owen at justin@beacontn.org
Prohibit local governments from using taxpayer money to lobby the state or federal government.
Read "The Dangerous Cycle of Taxpayer-Funded Lobbying" at bit.ly/18ahjzU
Change the rules of the game so that the individual incentives of judges, lawyers, juries, and other legal actors motivate them to act in the larger social interest.
Contact Lindsay Boyd at lindsay@beacontn.org
Enact reforms that punish the most violent criminals and provide a pathway back into society for rehabilitated offenders.
Contact Lindsay Boyd at lindsay@beacontn.org
Amend the current policy that allows the Supreme Court to choose the Attorney General, thus removing the conflict of interest for selecting our state's top lawyer.
Contact Lindsay Boyd at lindsay@beacontn.org
Prohibit state and local governments from using tax dollars to fund failed experiments to provide high-speed Internet to the general public.
Read "We Need to Shine the Light on Electric Utilities" at bit.ly/1gu2SyZ
Enact a law that provides for stronger financial management systems in local governments.
Read "2013 Tennessee Pork Report," p. 25 at bit.ly/17CQqty
Transportation
Refuse to force taxpayers to fund local mass transit projects with state taxpayer money.
Contact Lindsay Boyd at lindsay@beacontn.org
Replace the current gasoline tax with a more responsible vehicle miles traveled tax, with protections in place to prevent privacy infringements, to fund transportation infrastructure.
Read "There's More than One Way to Pave a Road" at bit.ly/1cGpxrh
Allow private investments in infrastructure through public-private partnerships, thus increasing transportation funding and reducing the burdens on taxpayers.
Read "There's More than One Way to Pave a Road" at bit.ly/1cGpxrh
Convert existing HOV lanes to high-occupancy toll (HOT) lanes, allowing unaccompanied drivers to pay a fee to use the under-utilized lanes.
Read "Legislators' Guide to the Issues," p. 50 at bit.ly/1ep6v8w
Cronyism
End corporate handouts to select businesses, which allow government to pick winners and losers.
Read "Corporate Welfare Infographic" at bit.ly/16EIq67
End all special treatment of alternative energy that distorts market conditions and puts taxpayer money at risk.
Read "Legislators' Guide to the Issues," p. 47 at bit.ly/1ep6v8w
Eliminate financial incentives to the film industry that provide no real benefit to Tennesseans and instead send taxpayer money to Hollywood producers.
Read "Corporate Welfare Infographic" at bit.ly/16EIq67
Terminate the state's Greenbelt Law that provides massive tax breaks to the wealthy while purporting to protect farmers.
Read "2013 Tennessee Pork Report," p. 15 at bit.ly/17CQqty
Eliminate the costly TNInvestco program that has failed to live up to its promises of substantial job creation despite a significant cost to taxpayers.
Read "2013 Tennessee Pork Report," p. 5 at bit.ly/17CQqty
December 3rd, 2013 |
Feature
,
Policy
Beacon CEO Justin Owen pens a guest article at the new blog, Tennessee Brush Fires, about the pitfalls of corporate welfare. Here's an excerpt.
Since 2005, Tennessee governments have handed over $1.75 billion in the form of tax credits and cash grants to large companies. And the vast majority of it has gone to just seven large corporations. Talk about a lopsided playing field.

The worst part of this corporate welfare scheme—taking from some and giving to others—is what could be done instead. Take for example the case of Hemlock Semiconductor, which received massive subsidies to locate a plant in Clarksville as part of the solar panel supply chain. Just a few months ago, the company announced that it was laying off its Tennessee workforce and ending construction on the unopened plant. Despite the company's utter failure to live up to its promises, taxpayers will lose $90 million on the deal.

The $90 million lost on Hemlock could have gone to cut the business tax for all Tennessee businesses by almost one-half percent. That's a tax cut for 170,000 different businesses, from the largest corporation to the mom and pop shop down the road.
Head over to Tennessee Brush Fires for the full piece.
August 2nd, 2013 |
Commentary
Today, the Beacon Center of Tennessee published a new "PoliGraphic," a policy infographic outlining some of the most massive corporate welfare deals in Tennessee over the past decade. The PoliGraphic also analyzes what could be done with the money that is doled out to favored companies and Hollywood elites. Click here or on the picture below to view the entire PoliGraphic.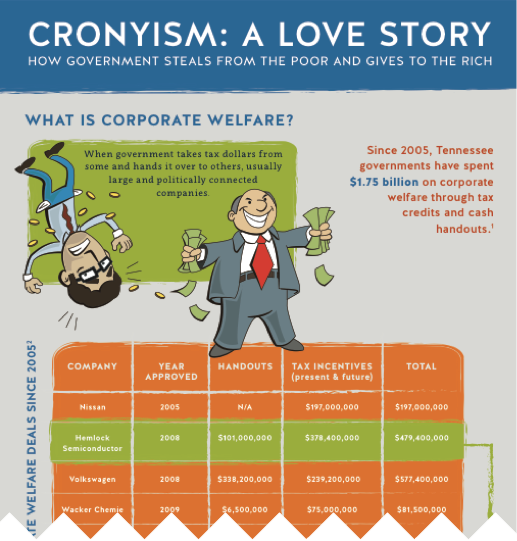 To learn more about the pitfalls of corporate welfare, visit www.BeaconTN.org/corporate-welfare.
July 31st, 2013 |
Feature
,
Policy