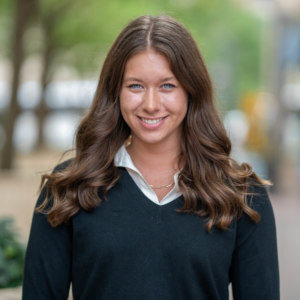 What Happens Next? The End of the Moratorium on Student Loan Payments
Just in case you forgot, federal student loans do still exist–and college graduates across America will have to begin repaying them soon. The impending thought of resumed student loan payments should not only concern Tennesseans with student loans. All Tennesseans could be affected.
Federal student loan payments have been paused since March of 2020 when the Trump administration paused all payments and set interest rates to zero as part of the CARES Act. This initial pause was meant to last for only six months. Now, eight extensions and more than three years later, these payments are finally set to resume in October 2023. The end of this payment moratorium is a provision of the Fiscal Responsibility Act of 2023, the debt-ceiling compromise between President Biden and House Speaker Kevin McCarthy.
The moratorium on student loans was instituted to relieve many from burdensome debt in light of the COVID-19 crisis. However, a study by the University of Chicago suggests that the pause led Americans to accumulate more debt. By the end of 2022, beneficiaries of student loan forgiveness held $2,500 more in student-loan debt and $2,000 more in combined credit card, mortgage and car-loan debt. Not only have these people acquired more debt, but they also haven't begun to repay any of it.
Let's consider a few more facts: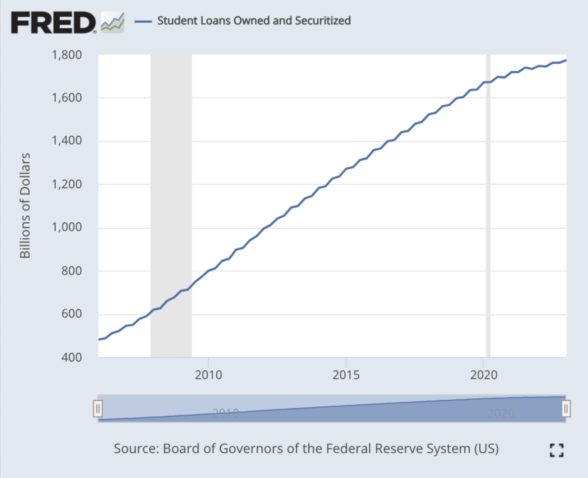 So what will happen now that payments are resuming? Consider, first, that many young people were eligible for some loan forgiveness under Biden's forgiveness plan, meaning they would have smaller payments.
However, in a 6-3 decision on June 30th, the Supreme Court ruled in Biden v. Nebraska that the Secretary of Education does not have the authority to establish Biden's proposed student loan forgiveness plan. It is estimated that the program would have forgiven roughly $430 billion in debt principal. If the forgiveness plan would have passed, this debt principal would have been added to the federal deficit which would have eventually fallen on taxpayers to repay. Even though individuals would have been paying less, the country as a whole would have ended up paying significantly more in future taxes.
Now, young people with student loan debt have no opportunity for federal forgiveness and will face monthly payments this fall. The New York Fed's Survey of Consumer Expectations in 2022 reported that beneficiaries of the payment pause anticipate a 16.1% risk of delinquency when faced with resuming payments. The typical monthly payment for a federal student loan is about $350 which can be a significant burden for those with part-time or entry-level jobs.
Finally, let's consider the structure of loan repayment plans. Under income-driven repayment plans, the primary form of federal repayment plan used since 2010, after a certain number of years, a borrower can have their outstanding balance "forgiven" (i.e. absorbed into the federal deficit). Between the concerns and consequences of delinquency in student loan repayment, taxpayers should be aware of potentially higher future taxes.
Between those repaying old and new student loans, many Tennesseans will have less disposable income this fall. Less disposable income means less consumer spending, slowing the economy across the state and perhaps the country. Tennesseans with student loans should begin preparing to make monthly payments. Furthermore, if those borrowers are unable to make payments, all Tennesseans should know that taxpayers could eventually face that burden.