Beacon Poll: October Results
Today, we released our second quarterly Beacon Poll, a statewide poll of 1,181 registered Tennessee voters comprised of questions about political races, policy issues, sports questions and more.
In one of the country's most watched 2024 Senate races, the poll results find incumbent Senator Marsha Blackburn with leads over her two potential Democratic rivals, Gloria Johnson and Marquita Bradshaw. Despite the national attention surrounding Gloria Johnson's campaign, she finds herself down 20 points to Blackburn (49%-29%) among likely voters, but a notable 23% of Tennessee voters are still undecided. In a more surprising result, 2020 Democratic Senate candidate Marquita Bradshaw currently finds herself in better position to take on the incumbent senator, only trailing Blackburn by 12 points (48%-36%) among likely voters, outperforming Johnson among both Democrats and Republicans. It's worth noting that most undecided voters in both races identify as either moderate or conservative. More than 6 in 10 of these undecided voters prefer Donald Trump or Robert F. Kennedy Jr. in the Presidential race, while less than 1 in 10 prefer Joe Biden.
In a head-to-head presidential matchup of likely Tennessee voters, Donald Trump has a 31-point lead (61%-30%) over Joe Biden. In an interesting twist, when Robert F. Kennedy, Jr. is included as an Independent third-party candidate for president, Trump's lead over Biden drops to 25 points (48%-23%) while Kennedy garners an impressive 19%. Additionally, Donald Trump leads Ron DeSantis by a staggering 47 points (63%-16%) in the Republican primary, while no other candidate gets above 3%.
On the topic of healthcare, voters from across the political spectrum support changes to existing laws. According to the poll, 57% of voters – including a large majority of Democrats, Republicans, and Independents – believe that licensed pharmacists should be able to diagnose and treat common illnesses such as strep throat or the flu, while only 26% oppose it. There is an even bigger spread when it comes to reforming or changing certificate of need laws. Forty-five percent of voters support reforming the law that requires healthcare providers to obtain government permission to open new hospitals or add clinics, and only 13% oppose this reform.
When it comes to who is primarily to blame for the high cost of healthcare, answers were split based on political affiliation. Government regulations and policies led the pack, with 24% of Tennesseans, including a plurality of Republicans and Independents, saying government is most to blame for the high cost of healthcare. Insurance companies were a close second, getting 23% of the vote, but are far and away the top choice for Democratic voters (35%). Pharmaceutical companies (13%), patient overuse of services or not engaging in preventative care (7%), malpractice lawsuits (5%), doctors, nurses, and other healthcare providers (5%), and hospitals (2%) rounded out the list.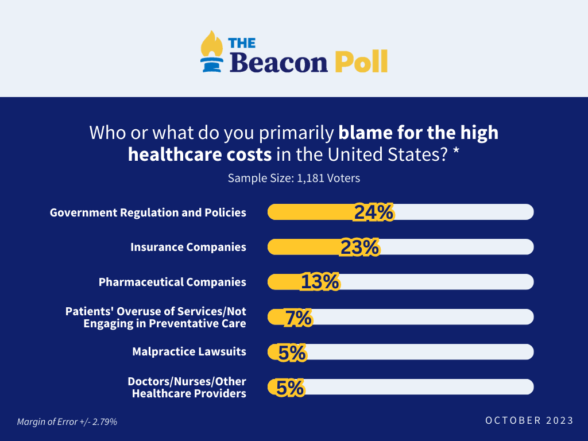 There were many other interesting results from this poll regarding athletics. One thing all political factions can agree on is that Alabama has the most obnoxious SEC football fan base, with 30% of voters and a plurality of Democrats, Republicans, and Independents agreeing. The University of Florida and the Volunteers of Tennessee tied for the second most obnoxious fan base, garnering 18% of the vote each, while Georgia (6%) and Ole Miss (5%) rounded out the top five. Fifty-two percent of Tennessee voters also approve of the NCAA's recent decision allowing college athletes to profit from their name, image, and likeness, while only 19% disapproved. Tennesseans were split on whether tax dollars should be used to subsidize new stadiums, with 35% supporting tax dollars funding new stadiums and 34% opposing it.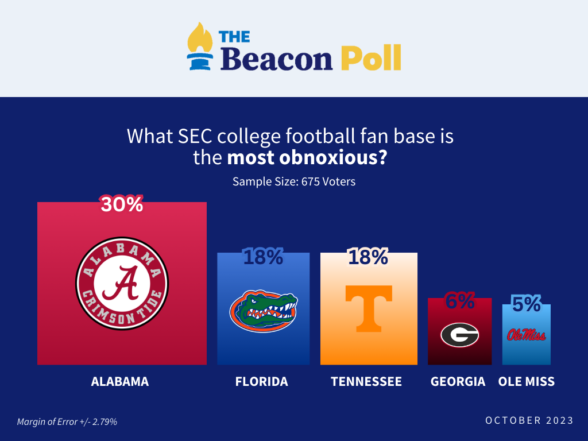 Additionally, Tennessee voters approve of the job Bill Lee is doing as governor by 22 points. Forty-seven percent of voters approve of the job Lee is doing as governor, 25% disapprove, and 21% neither approve nor disapprove. Bill Lee's approval is strongest among Republicans (+53%) and Independents (+18%), while he is underwater among Democrats (-27%).
While many of the results of this poll were probably expected, the poll also has a lot of truly eye-opening results. From RFK Jr.'s and Marquita Bradshaw's strong performances to bi-partisan support for healthcare reforms, this poll had a lot of noteworthy takeaways.
With a lack of consistent and reliable polling in the state, we are happy to offer a transparent and unbiased look at what Tennesseans really think. While Beacon obviously holds certain policy positions, this poll is all about finding where Tennesseans really are and what issues they care most about by offering the public full transparency in terms of results, questions, and demographic info.
You can read the full poll with party and region crosstabs here.
You can read the full poll with demographic crosstabs here.
You can read the full poll of likely voters here.